2015 Trivia Night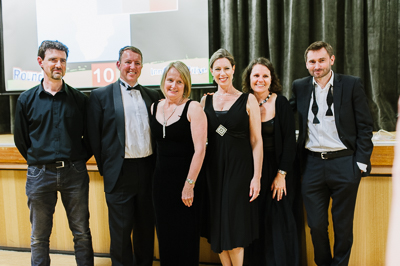 Winners!
The Duffy Primary School Hall was awash with fabulous fancy dress, Trivia buffs, yummy share plates of foods, friends, family and many many laughs last Saturday night. It was an absolutely fantastic night and in amongst all the fun we raised approximately $2,700 for the school.
With our Casino Royale Theme great style, flair & imagination was on display, although we are not sure too many would want to see Mr Travis & Mr Pratt's outfits again :)
Our brains were tested and teased with the night starting with a bit of Art History, and progressing onto topics like food, sport, music, TV & Cinema & general knowledge. Our MC's 2 rounds of music riff's left many guessing and others dancing in their seats. People tested their skills by tossing poker chips at a glass jar, or tried their luck in 50/50 games by picking red/black - The roulette wheel appeared to have a preference for red :)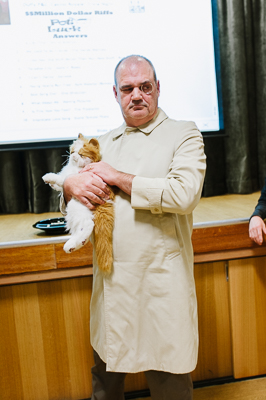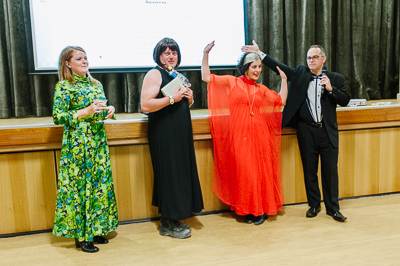 Winner Best Male Finalists & winner (in Red) best Female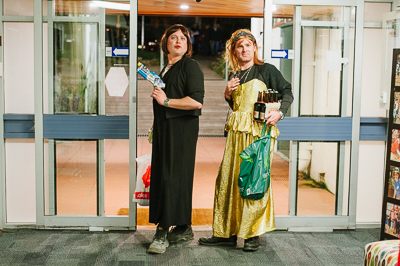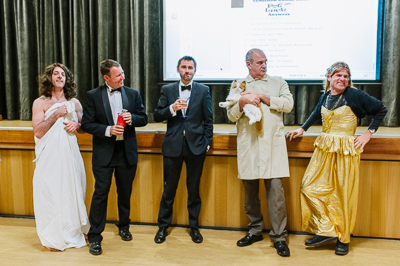 More photos are below!
The night would not have been possible without our major sponsor Luton Properties, and all of our sponsors (listed below) who donated prizes to the P&C. Please thank them by visiting their businesses and utilising their services.
To view the scores and see all the photos - click read more!
Fundraising Event - School Cross-Country
The school cross country is being run on Monday, 23 March 2015. This year we are excited that our event is part of the Adidas School fun run. Being a part of this great initiative means that we not only get to raise funds for the school, but the kids also get the opportunity to win fantastic prizes just by participating.
All funds raised will be used to contribute to the positive learning enviornment of the school.
Family support is most appreciated, and we encourage families to get involved and assist children with this fundraising activity.
A fundraising sausage sizzle will also be held on the day. Pre-orders (and payment) must be provided to the school by Wednesday 18 March.
All sponsorship forms and money are due back to the school on Friday, 27 March 2015.
Athletes Foot offer
One of our Sponsor's, The Athlete's Foot in Woden, is offering $10 off their brand new Basketball Range. See attached flyer for $10 Voucher and details. Offer is valid until 30 April 2015.
Don't forget whenever you mention Duffy Primary School when shopping at the Athlete's Foot, they will donate $5 for the sale of each pair of shoes to the school!
Notice of AGM & first General Meeting
The P&C AGM will be held on Wednesday 25 February at 7pm in the school library, followed immediately by the first general meeting for the year. The agendas will be available from our website two days prior to the meetings, and if you have any items you would like to add to the general meeting agenda please email them to This email address is being protected from spambots. You need JavaScript enabled to view it.by 5pm Friday 20 February.
We will be electing a new Executive Committee for the upcoming school year at the AGM – the positions below are office bearers of the P&C and will attend the majority of P&C meetings (two per term) and are occasionally called upon to make quick "out of session" decisions in-between meetings.
Being an office bearer in the P&C is a rewarding experience as you get to work closely with the Executive teaching staff and help decide the focus for fundraising activities and community events.
The office bearer Executive Committee positions for 2015 are:
President - The President's role is to chair all P&C meetings and represent the P&C within the school community.
Secretary - The Secretary is responsible for keeping records of all in-coming and out-going communications and take and distribute minutes of all general meetings.
Treasurer - The Treasurer is responsible to keep a record of and report on all monies spent and received. They are to prepare and present all material to the Auditor and present the Audited Financial Statements at the AGM.
Vice-President, Assistant Secretary, Assistant Treasurer - These roles are to support the primary position and act in their role in their absence.
Preschool Representative - The Preschool Representative is a conduit for the Preschool Teachers to put forward specific ideas about the needs of the Preschool Unit. The role includes the coordination of the end of year celebration for the Preschool Unit.
Fundraising Committee Coordinator - This role is responsible for coordinating fundraising efforts. We are looking for a passionate and enthusiastic person to investigate and pursue fundraising opportunities for Duffy Primary School.
Grants Officer - This is a new role we are looking to establish for a member with experience or an interest in writing grant applications. There are many government grants available within the ACT and we need a person to assist in seeking these out and writing submissions.
P&C Council Delegate - This position represents Duffy Primary P&C at the ACT Council of P&C's meetings (two per term) and provides an update back to the P&C on topics of interest.
Other Executive Committee positions are:
Ordinary Members - Up to three "Ordinary Members" may also be elected to the Executive Committee. While not having an office bearer responsibility, these positions assist and promote the objectives of the Duffy Primary P&C and participate in P&C run events.